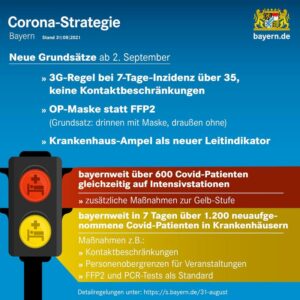 Incidence and hospital traffic light system
The former system is replaced by a new traffic light system as an indicator of the burden on the health care system.
The yellow level is reached as soon as more than 1,200 patients with COVID-19 disease have to be admitted to hospitals across Bavaria within the last seven days. This corresponds to a Bavaria-wide hospitalization incidence of 9.13 per 100,000 inhabitants. As soon as the yellow level is reached, the state government decides on further measures.

The red level is reached as soon as more than 600 patients with COVID-19 disease are in the Bavarian intensive care units. As soon as the red level is reached, the state government will immediately order further measures in addition to the regulations already in place for the yellow level in order to prevent the then acute threat of overloading the health system.
3G principle
From a 7-day infection incidence rate of over 35 cases in the district, the 3G principle applies across the board: Therefore, only those who have been vaccinated, who have recovered or who are negatively tested within the corresponding time frames can enter. This applies to public and private institutions, events, sports facilities, fitness studios, the entire culture, theaters, cinemas, museums, memorials, gastronomy, accommodation, universities, hospitals, libraries and archives, extracurricular education such as music schools and adult education, as well as leisure facilities including spas, thermal baths, saunas, cable cars and excursion boats, casinos, tourist busses and the like.
Mask requirement
The FFP2 mask requirement does not apply. The medical mask ("surgical mask") is the new mask standard. In addition, the following will be differentiated everywhere:
there will generally no longer be a mask requirement in the open air. The only exceptions are the entrance and meeting areas of larger events (from 1,000 people).

Conversely, a general mask requirement always applies in closed rooms. This does not apply to private rooms, as well as space in restaurants and any permanent seating or standing space, if it reliably maintains a minimum distance of 1.5 m from other permanent spaces that are not occupied by their own household members.

In public transport and long-distance traffic, the mask requirement applies without exception.
You should inform yourself about the complete regulations on the official website of the Bavarian government: https://www.bayern.de/coronavirus-in-bayern-informationen-auf-einen-blick/
About the rates in Bayern you find here: https://interaktiv.br.de/corona-newsletter/
and BR news about Corona can be found here: https://www.br.de/nachrichten/deutschland-welt/coronavirus-in-bavaria-assistance-in-english,RtO8eS2